All about Trinity Desktop on PCLinuxOS 2015 and Beyond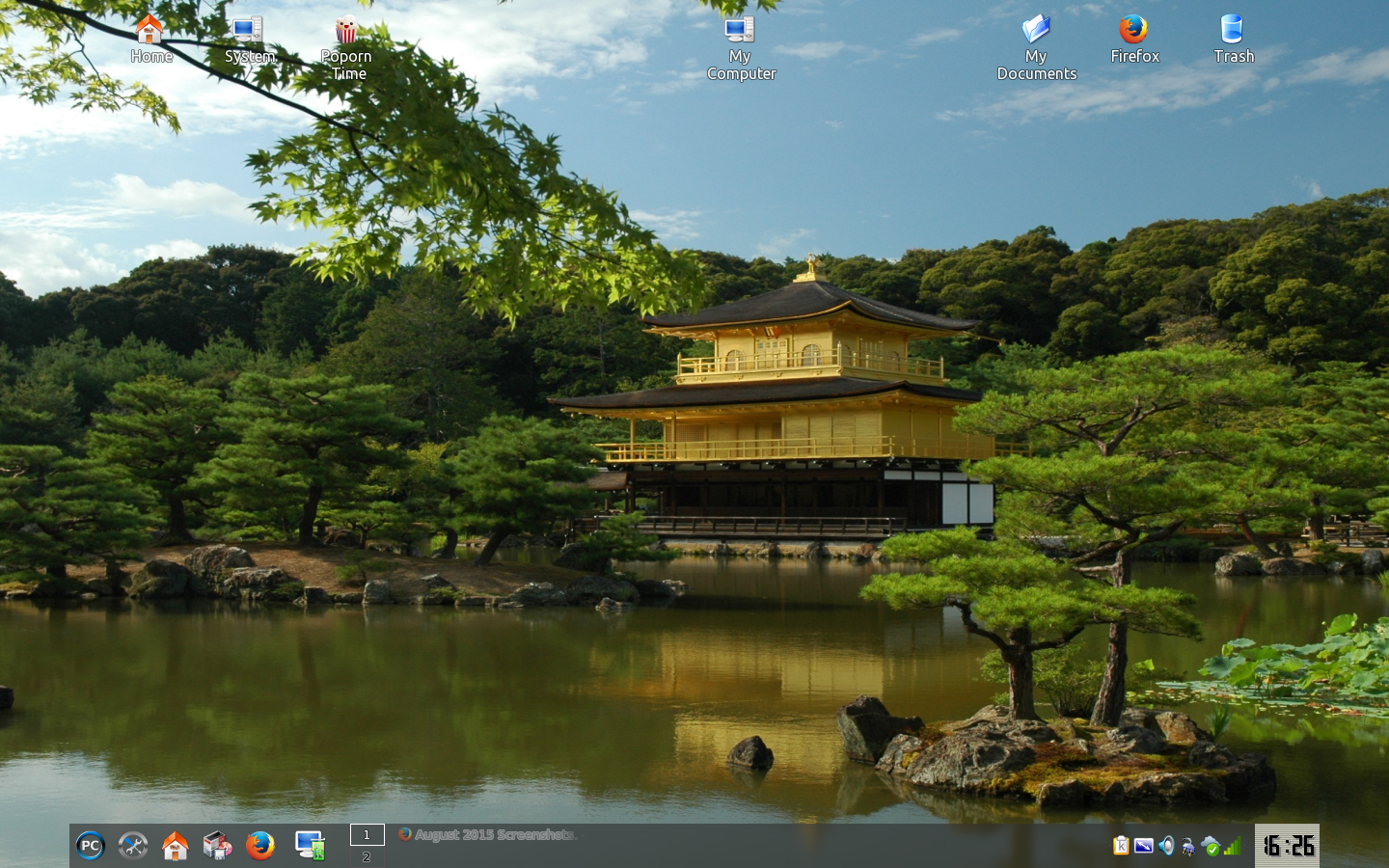 I am happy to announce that after some time away I have now released the 64 Bit version of Big Daddy Trinity. You can download it from the download section. Mini version will be available soon. have fun with this release. Please note that this is now no 32 bit available. You can however download one of the earlier builds and update it to around Junes updates. Present_arms
I am happy to announce that there is now a section on the forum dedicated to Trinity you can find it here
Trinity Mini is now available in both 32 and 64bit I am pleased to announce. Updated to 26-01-2016. Download your copy now. It has been renamed Mini to differentiate itself from KDE-Minime

I am happy to announce the first ISOs of 2016. Big daddy now available for 32 and 64Bit, Updated as of 16-01-2016, This will be the last release on the monthly cycle, all future Trinity Big Daddy releases will be Bi-Monthly with exceptions to big updates

There are now 2 new ISO's of Trinity made in Italian and Brazillian flavours, available to download from the download locations

Have you heard there is a new species of Ape? It's called the ChimpBox. A 64bit Quad Core computer and not only that Trinity is available for it (KDE is installed by default). Now all you need to do is find $325.00 from down the back of the sofa, and go to chimpbox.us and order one. (Other PCLinuxOS desktops are available)

We are pleased to announce the Trinity Wallpaper Gallery
you can find it here trinity.mypclinuxos.com/wallpapers With over 1000 wallpapers to chose from with very varied subject matter making it one of the places to stop by and browse at leisure
31 Novemvber 2015
I am pleased to announce that Trinity has updated to 14.0.2. The mirrors have now synced and it is now safe to update
Please see the announcement here

Trinity Big Daddy December is released for 64 and 32 Bit also Mini-Me!! both featuring all updated Trinity 14.0.2 desktop,now faster and more stable
Tinity Minime has been updated solving an issue when connecting to Wifi it also has update kernel, enjoy!
Trinity Big Daddy November 2015 is now released for 64 bit and 32 bit!

Trinity November Mini me 2015 is now available in 64 and 32Bit


Big Daddy Releases


Release Date: August 21st 2016
pclinuxos64-trinity-big-daddy-08.16-3 (pclinuxos64-trinity-big-daddy-08.16-3)
Size: 1.4GB
Md5sum:ba8619e9254089d6ddeea8780217c2f4
Produced by Present_arms
User Level intermediate


Release Date: January 16th 2016
trinity64-pclinuxos-2016.1 (trinity64-pclinuxos-2016.1)
Size: 1.4GB
Md5sum:e1574b552c3179bfb5d5e10bda08cf3e
Produced by Present_arms
User Level intermediate


Release Date December 4th 2015
trinity64-pclinuxos-2015.12 (trinity64-pclinuxos-2015.12)
Size: 1.3GB
md5sum: e3aeeaa8f8d714a966a0890c61d7dfd6
Produced by present_arms
User level: Intermediate


Release date: November 3rd 2015
trinity-big-daddy-pclinuxos64-2015.11 (trinity-big-daddy-pclinuxos64-2015.11.iso)
Size: 1.4GB
md5sum: c0551b03023097664701904bebce71ab
Produced by present_arms
User Level: Intermediate


Older verions are still available from the download location


Minime Releases


Release date: 26th January 2016
pclinuxos64-tde-mini-2016.01.iso(pclinuxos64-tde-mini-2016.01)
Size: 675.5MB
md5sum: a04e0c9fe7fa9d6b590b24da1a72196c
Produced By Reelcat
User Level: Advanced


Release date December 17th 2015
pclinuxos64-trinity-minime-2015.12.17(pclinuxos64-trinity-minime-2015.12.17)
Size: 673MB
md5sum:dd3e1e8eea6d1c25ef651ab4ceef8b99
Produced by: reecat
user level: Advanced


Release date: November 6, 2015
pclinuxos64-trinity-minime-2015.11(pclinuxos64-trinity-minime-2015.11.iso)
Size: 672.5MB
md5sum: 230ab4dea935f9519cb0faaf784683c8
Produced by reelcat
User level: Advanced


Release date: October 11, 2015
pclinuxos64-trinity-minime-2015.10(pclinuxos64-trinity-minime-2015.10.iso)
Size: 681MB
md5sum: e7668ce020bdf6b865871c5ac75dec23
Produced by reelcat
User level: Advanced


Release date: September 5th, 2015
pclinuxos64-trinity-minime-2015.09 (pclinuxos64-trinity-minime-2015.09.iso)
Size: 657MB
md5sum: ea79eb5248071250def5bbe0c7e0fc0d
Produced by reelcat
User level: Advanced


Release date: August 23, 2015
pclinuxos64-trinity-minime-2015.08 (pclinuxos64-trinity-minime-2015.08.iso)
Size: 661MB
md5sum: 517c0d6d306aaaa9d987fbf88e46dfbc
Produced by reelcat
User level: Advanced





Big Daddy Releases


Release Date: January 16th 2016
trinity-pclinuxos32-big-daddy-2016.01.iso(ttrinity-pclinuxos32-big-daddy-2016.01)
Size 1.4GB
md5sum:743efe19a8c3b27d1bb11856783f5038
Produced By: Present_arms
User Level: Intermediate


Release date: December 4th 2015
trinity-pclinuxos32-big-daddy-2015.12( trinity-pclinuxos32-big-daddy-2015.12)
Size:1.3GB
md5sum: 917fd56c1931291053dfd56b510a647d
Produced by present_arms
User Level: Intermediate


Release Date: November 2, 2015
trinity-pclinuxos32-big-daddy-2015.11(trinity-pclinuxos32-big-daddy-2015.11.iso)
Size: 1.3 GB
md5sum: 3402d096a054cdba552a1db9b65de869
Produced By: present_arms
User Level: Intermediate


Older ISO's for 32 bit are still available to download from the download location



Minime Releases

Release Date: 26th January 2016
pclinuxos32-tde-mini-2016.01.iso (pclinuxos32-tde-mini-2016.01)
Size:673.2GB
md5sum:b49ad7fa3e0a3a27f7068e6abed05513
Produced by: Reelcat
User Level: Avanced

Release date: December 17th, 2015
pclinuxos-trinity-minime-2015.12.17 (pclinuxos-trinity-minime-2015.12.17)
Size:671MB
md5sum:de32246d5ee43e8eddaf480c1a77d90a
Produced by: reelcat
User level: Advanced

Release date: November 6th, 2015
pclinuxos-trinity-minime-2015.11 (pclinuxos-trinity-minime-2015.11.iso)
Size: 675.4MB
md5sum: cfede00c0beab0bb7f6e882a4aff9023
Produced by: reelcat
User Level: Advanced

Release date: October 11, 2015
pclinuxos-trinity-minime-2015.10 (pclinuxos-trinity-minime-2015.10.iso)
Size: 641MB
md5sum: 350be7d114b75745539d9352593afd20
Produced by: reelcat
User Level: Advanced

Release date: September 5th, 2015
pclinuxos-trinity-minime-2015.09 (pclinuxos-trinity-minime-2015.09.iso)
Size: 612MB
md5sum: 1841f14a54ad351488f6477bf8bc58e8
Produced by: reelcat
User Level: Advanced

Release date: August 23, 2015
pclinuxos-trinity-minime-2015.08.iso (pclinuxos-trinity-minime-2015.08.iso)
Size: 617MB
md5sum: ffccf7bf7203147c62fc544032655425
Produced by: reelcat
User Level: Advanced

Remarks: The Trinity MiniMe iso provides a basic Trinity desktop and is intended for advanced users who know how to fine-tune their system. To keep this iso small no printer drivers are included.

Notes for August
Fully updated, with kernel 4.1.6 and some nice improvements borrowed from present_arms's Big Daddy release (root login warning and the root Trinity theme in red). Now, live sessions of 32- and 64-bit versions are easy to distinguish by different wallpapers. Additionally, I removed the weather panel applet, as it shows nothing useful in live session unless you have wired network. Instead, I added two small KSysGuard panels showing CPU and Memory.


Info: The Trinity Desktop: a popular, multi-platform desktop environment for your computer and a great Windows OS replacement. TDE's focus is ease of use, stability, and first-class internationalization and accessibility support. TDE is Free and Open Source Software and provides all of the common tools computer users expect of a modern computing environment, such as e-mail, web browsing, file management, multimedia, and games.
PLEASE NOTE Trinity is an experimental Desktop Enviroment and still in heavily development. Although special care has been taken to ensure everything is stable and slick, there maybe still some unexpected errors. YOU HAVE BEEN WARNED
MInime Features: Comparing with RC of minime, only few changes: - removed some KDE4 leftovers; - full upgrade with the most recent packages; - replacing kde-redo-mbr with lxde-redo-mbr (present_arms experience); - on the desktop, an icon "Install PCLinuxOS" added in both versions; - NumLock is off by default (better for laptops)
Reelcat
Big Daddy Features

Updated to November 2nd added features include, Gimp, Kaffiene, Amararok, steam, playonlinux, firefox, ktorrent, k3b, vlc, digicam and lots of others
All versions are based on TDE R14 release
Highlighted Applications: Common Features on 64 bit Big Daddy include Removed some applications to make it lighter by 400 MB
Playonlinux, Install some of your favourite windows programs.
steam launcher for Linux.(32Bit)
Kaffiene, a multimedia player for audiocd, MP3, DVB TV etc etc.
Firefox with Flash so you can watch youtube out of the box.
Gparted for advanced partition management .
Drivers added for rtl and braodcom based wifi adapters, rfkill installed for Intel Wifi drivers that seem to be blocked on boot are now enabled by default.
And many more :D
Enjoy.

present_arms
Additional Packages Availiable
Additional programs are available from our Synaptic Software Manager after installation to your computer. In additon to the full TDE version there is also a MiniMe version with just the desktop and void of extra applications for those advanced users who wish to trick out their desktop with only the applications they want to install and use.
Trinity Hardware requirements
Processor

Modern Intel or AMD processor. 64bit releases require a 64bit processor.
Memory & storage

RAM : 1 GB, or more (recommended 4 GB+).
Hard disk : 10 GB or more recommended if you plan to install additional software from our repository.
Video card

nVidia, ATI HD 4000 or better, Intel
3D desktop support requires a 3D instructions set compatible card.
Sound card

Any Sound Blaster, AC97 or HDA compatible card.
Other

CD/DVD drive required for burned liveCD/DVD image, or USB flash drive larger than 4 GB for liveUSB image conversion.
Disclaimer (CYA): THIS SOFTWARE IS PROVIDED BY BILL REYNOLDS AND CONTRIBUTORS "AS IS" AND ANY EXPRESS OR IMPLIED WARRANTIES, INCLUDING, BUT NOT LIMITED TO, THE IMPLIED WARRANTIES OF MERCHANTABILITY AND FITNESS FOR A PARTICULAR PURPOSE ARE DISCLAIMED. IN NO EVENT SHALL THE OWNER OR CONTRIBUTORS BE LIABLE FOR ANY DIRECT, INDIRECT, INCIDENTAL, SPECIAL, EXEMPLARY, OR CONSEQUENTIAL DAMAGES (INCLUDING, BUT NOT LIMITED TO, PROCUREMENT OF SUBSTITUTE GOODS OR SERVICES; LOSS OF USE, DATA, OR PROFITS; OR BUSINESS INTERRUPTION) HOWEVER CAUSED AND ON ANY THEORY OF LIABILITY, WHETHER IN CONTRACT, STRICT LIABILITY, OR TORT (INCLUDING NEGLIGENCE OR OTHERWISE) ARISING IN ANY WAY OUT OF THE USE OF THIS SOFTWARE , EVEN IF ADVISED OF THE POSSIBILITY OF SUCH DAMAGE.